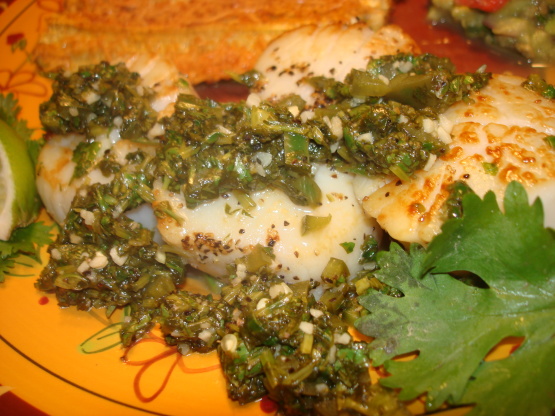 MARGARITA SCALLOPS
Chevy's Fresh Mex Restaurant Recipe
Serves 4
1/4 cup tequila
1 cup freshly squeezed lime juice
1/2 cup freshly squeezed lemon juice
1/2 cup sugar
1-2 jalapenos, stemmed, seeded and coarsely chopped
3/4 cup 1/2 inch green onion pieces
1 cup chopped cilantro leaves
1 teaspoon garlic
1/2 teaspoon salt
1 pound large sea scallops
1 tablespoon olive oil
1 lime, quartered
3 teaspoons minced cilantro
To make the Scallops:
Place all the ingredients, except the scallops and olive oil, in a blender or food processor and puree. Taste the mixture and add more jalapeno as desired. transfer the mixture to a mixing bowl and set aside.
Rinse the scallops in cold water, and pay dry in a saute pan over high heat, heat the olive oil just until smoking. Add the scallops to the saute pan and sear well without stirring or tossing. Add the citrus mixture to the pan, and bring to a boil. When the liquid reaches a boil, turn the scallops and cook for 1 minute more. Remove the scallops, cover to keep warm, and reduce the sauce to half of its original volume over high heat.
To Serve:
Divide the scallops among the plates. Pour the liquid from the pan directly over the plates. Garnish with lime wedges and cilantro.