Don't feel like cooking but want to throw a Mexican fiesta? Well, the folks at Chevy's Fresh Mex can take care of that for you. The catering platters serve 4 to 8 people depending on which platter you choose.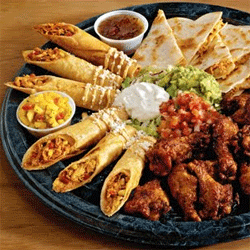 Here are some of the platters available:
Fresh Mex Appetizer Sampler
- A variety of Chevy's favorites to include crispy flautas, spicy wings, and chicken quesadillas. Served with guacamole, sour cream and pico de gallo.
Enchilada Fiesta Platter
- Your choice of chicken, beef or cheese. Served with rice and beans.
Quesadilla Fiesta Platter
- A variety of chicken, steak and vegetable quesadillas
Tamales Fiesta Platter
- Your choice of pork tamales with meat sauce or chicken tamales with tomatillo sauce.
Big Fresh Salad Fiesta Platter
- The choices are mixed greens, caesar or santa fe.
Sizzling Fajita Fiesta Platter
- Each platter comes with pico de gallo, sour cream, guacamole, tortillas, rice, beans and corn tomatillo. The choices are shrimp, veggie, just chicken or chicken and steak
The prices run about $35 per platter except the Sizzling Fajita Fiesta platter which averages about $55.